This month's #TakeItMakeIt activity is a Straw Bridge Challenge!
Welcome to Take It Make It, a partnership between the Mid-Valley STEM-CTE Hub and the Linn County Library Consortium! This month's challenge is a fun one and it is one of our most open-ended kits.
The idea here is to use your (limited) supplies to try to make a bridge. It can be a suspension bridge or not, it can span your own self-made body of water, or it can cross over a busy street of tiny cars. Think about how the paper clips and straws can be folded or unfolded, cut, combined, or used separately.
Here are several ways to connect straws and paper clips
*** We tried to get our video uploaded but it wasn't working… we'll try again later, but in the meantime, we do have some  photos you can check out ***
1. Connect the paper clips together first and then push the clips into or clip them onto the straws
2. You can also connect the straws together by pushing one into the other and then you can squeeze a paper clip around them
More Hints:
Pennies or LEGO bricks make excellent test materials to see if your bridge can support the weight.
It is not necessary to use all of the materials.
Be optimistic! You are clever and you can figure this out.
Make sure you think beyond the current shapes of the materials.
Start small with your straw bridge… you can always build a bigger version by adding onto it!
Earn a badge!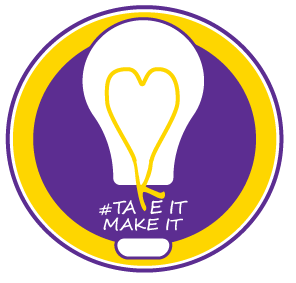 For this challenge, we are introducing our own Digital Badging program!
Here's how it works…
Fill out this form and enter your name, age, home library, and parent's email address.
Be sure to also post a picture of your completed challenge on social media (tag us on Instagram @mvstemcte or you can email it to midvalleystemctehub@gmail.com) to earn your badge.
After you earn 5 Take It Make It Badges, you earn a Maker Badge AND are eligible for prizes like gift cards, books, and other cool stuff!
For more STEM/CTE/Making fun, check out: