The Mars Perseverance Landing is next week and you can follow along virtually with NASA Live! The commentary begins at 11:15 a.m. PST on Thursday, February 18, and the landing is planned for 12:30 p.m. PST. Watch it here: nasa.gov/live.
Here are 5 things you need to know about this mission:
1.) Find out why astrobiologists are excited for NASA's Mars 2020 Perseverance Rover mission!
2.) The Perseverance Landing – To reach the surface of the Red Planet, Perseverance has to survive the harrowing final phase known as Entry, Descent, and Landing. Watch a simulation of this phase below:
Watch a preview of the final phase trailer below:
3.) The Mars 2020 rover is car-sized, about 10 feet long (not including the arm), 9 feet wide, and 7 feet tall (about 3 meters long, 2.7 meters wide, and 2.2 meters tall). At 2,260 pounds though, it weighs less than a compact car. Learn more and check out a 3D model of the rover here.
4.) Perseverance has four main science objectives: geology, astrobiology, sample caching, and perhaps the most exciting, to test technologies that would help sustain a human presence on Mars in the future.
5.) Ever wonder how you would sound on Mars? Visit this page and listen for the subtle differences between the sounds on Earth versus how they would sound on Mars.
More facts about the Perseverance Rover mission:
The Perseverance will land at the Jezero Crater, Mars for a mission of at least one Mars year (about 687 Earth days).
Perseverance will blaze through Mars' atmosphere at about 12,100 mph (19,500 kph), touching down gently on the surface about seven minutes later.
The Perseverance rover will seek signs of ancient life and collect rock and soil samples for possible return to Earth.
There will be a technology demonstration to test the first powered flight on Mars. A helicopter (named Ingenuity) will ride to Mars attached to the belly of the Perseverance rover.
Perseverance Landing Watch Party!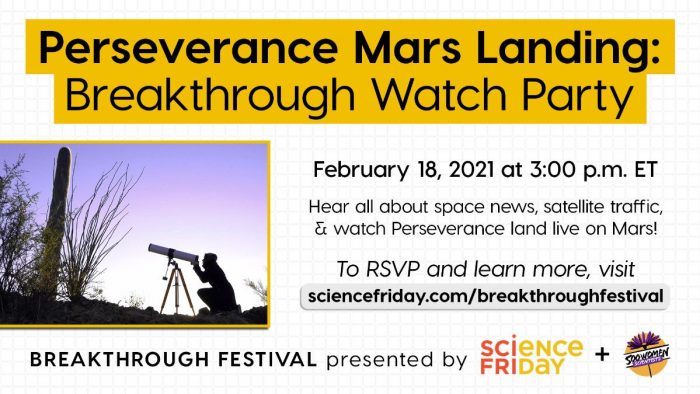 Want to learn more about the Rover and this mission?
Do you enjoy podcasts? Here's a list of podcasts discussing the Mars Perseverance rover.
Complete mission information on the Mars Perseverance landing.