Meet our staff | Conozca a nuestro personal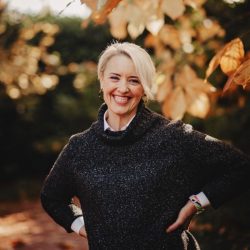 Sarah Whiteside, Director/ Directora
U of O and OSU alum and Willamette Valley native with 20+ years in STEAM education across the P-20 continuum. Whenever possible she seeks to be someplace beautiful with family and a good book.
Exalumna de la Universidad de Oregon (U of O) y la Universidad Estatal de Oregon (OSU) y originaria del Valle de Willamette, con más de 20 años en la educación STEM desde el Kínder hasta la educación post secundaria. Siempre que puede, busca estar en un lugar hermoso con la familia y un buen libro.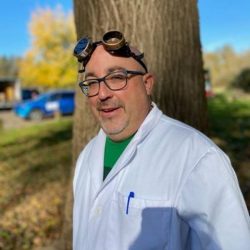 Chris Singer, Program Coordinator/ Coordinador del Programa
Husband, father, disc golfer, pickleballer, and LEGO aficionado who is passionate about STEM, CTE, making, LEGO, early childhood education, and youth development.
Esposo, padre, golfista de disco volador, jugador de pickleball y aficionado a LEGO apasionado por STEM, CTE, fabricación, LEGO, educación infantil temprana y desarrollo juvenil.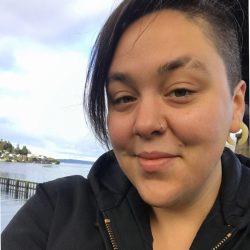 Kacey Montgomery, Marketing Specialist/ Especialista en Marketing 
Third-year Visual Communications- Graphic Design student at Linn-Benton Community College. In my free time, I like to make videos, make linocut prints, and go camping.
Estudiante de diseño gráfico y comunicaciones visuales de tercer año en el Colegio Superior Linn-Benton Community College. En mi tiempo libre, me gusta hacer videos, hacer grabados en linóleon (linocut prints) e ir de campamento.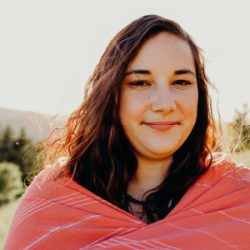 Kelsie Szeszulski, Administrative Assistant/ Asistenta Administrativa
OSU College of Forestry alumni, dog and chicken mom, gardener, and someone who loves the outdoors. In my spare time, you will find me hiking in the forest with my dog or walking down the Oregon coastal beaches.
Exalumna de la Facultad de Silvicultura de la Universidad Estatal de Oregon (OSU), madre de perros y pollos, jardinera y alguien que ama el aire libre. En mi tiempo libre, me encontrarás caminando por el bosque con mi perro o caminando por las playas de las costas de Oregon.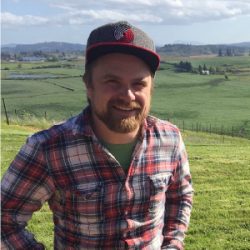 Forrest Johnson, STEM Librarian & Makerspace Coordinator/ Bibliotecario de STEM y Coordinador de espacios creativos
Forrest Johnson is a librarian, educator, and maker. His passions are skateboarding, DIY guitar making, and comics, but he gets excited about making just about anything. He also is an advocate for open licensing, open pedagogy, and the right to repair.
Forrest Johnson es bibliotecario, educador y creador. Sus pasiones son la patineta (skateboarding), la fabricación de guitarras y las historietas, pero le emociona hacer casi cualquier cosa. También es un defensor de las licencias abiertas, la pedagogía abierta y el derecho a la reparación.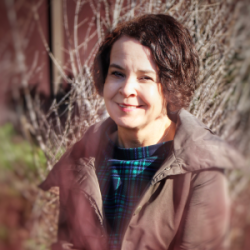 Janice Hardy, Fund Development Manager/ Gerente de Desarrollo de Financiamiento
Second-generation OSU grad who has dedicated her career to nonprofit work and higher education advancement. She loves watching the world through the eyes of her curious, eight-year-old son, and is always looking for an excuse to take a walk, explore waterfall trails, and visit the Oregon Coast.
Graduada de la Universidad Estatal de Oregon (OSU) de segunda generación que ha dedicado su carrera al trabajo sin fines de lucro y al avance de la educación superior. Le encanta ver el mundo a través de los ojos de su curioso hijo de ocho años y siempre está buscando una excusa para dar un paseo, explorar los senderos de las cascadas y visitar la costa de Oregon.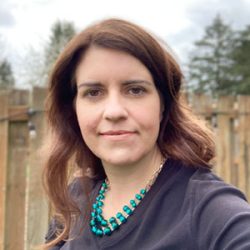 Danielle Jarkowsky, Business & Industry Outreach & Equity Specialist/ Especialista en Promotora de Negocios e Industria
Danielle's background is in natural sciences, higher education, workforce development, and communications. She is passionate about connecting people who share interests. She is also a photography-phyle, always aiming to capture the perfect image composition. She enjoys viewing landscape design and architecture wherever she goes.
La experiencia de Danielle es en ciencias naturales, educación superior, desarrollo de la fuerza laboral y comunicaciones. Le apasiona conectar a personas que comparten los mismos intereses. También es una fotógrafa, siempre con el objetivo de capturar la composición de imagen perfecta. Le gusta ver el diseño del paisaje y la arquitectura donde quiera que vaya.