Meet Closing the Gap Featured Role Model (May 2021): Sisi Virasak
We're proud to present this month's featured role model, Sisi Virasak! Read our interview with Sisi below.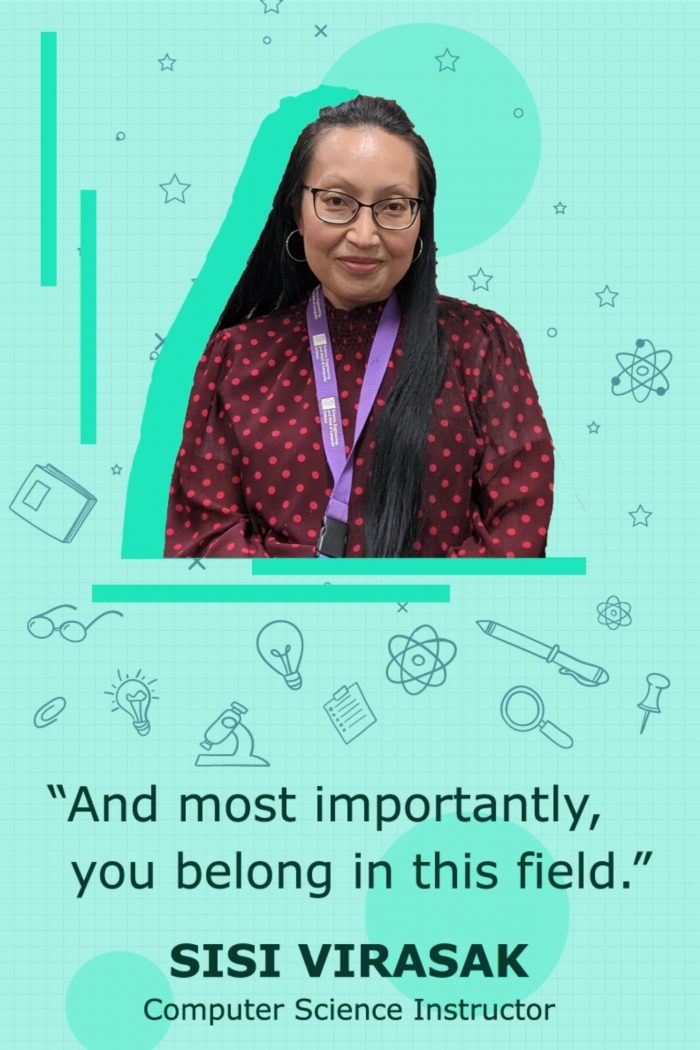 Q: Can you tell us a bit about your educational background
My educational background is in Computer Science, Computer Information Systems and Business/Supervisory Management. I have completed courses in Jabil Molding Institue for Plastics Engineering, Design of Experiments (DOE) and Injection Molding. I have completed courses in Cisco CCNAv7: Introduction to Networks and Switching, Routing, and Wireless Essentials.
Q: Can you tell us about your current work and occupation?
I work at Linn-Benton Community College (LBCC) as a Computer Systems Faculty teaching Web Development, Programming, and Networking courses.
Q: What have been the proudest moments/highlights/accomplishments of your career so far?
Where do I even start? I feel like I have so much to be proud of. My apologies if this comes off like I am bragging. That's not my intention. Please allow me to share a little bit about myself so you can understand why I have so much to be proud of.
Our family emigrated to the United States in 1979 from Laos. At that time Laos was under communist rule and strict dictatorship. We were one of the lucky families that received sponsorship to come to America. Not many families were lucky enough to receive sponsorship and were left behind or families were separated. Laos is a poor country and we are considered low-level, meaning uneducated (not smart people). In Laos, education is a privilege, you had to have money. My parents did not have that privilege and were working hard to provide for their families at an early age. My mom was a housekeeper and worked in the fields day and night and my dad was sent away to work for the army. They did not have the opportunity to go to school. They brought us to America to provide a better life for us. My parents just wanted us to go to school and become educated.
I am proud to be teaching here at LBCC. I never thought in a million years that I would be a teacher, going back to that stereotype that Laos people are not smart. About 4% of Laos people receive post-baccalaureate degrees. The hope is that as the year progresses and there are more role models that the numbers will improve. I did not think I had what it takes to be an Instructor. I was not good at public speaking and felt I was not smart enough, so I had a lot of self-doubts. Who thought that an immigrant from Laos could become an Instructor? As I was growing, I did not have a clear idea of what I wanted to do with my life, but a teaching position for Community Ed at LBCC filled my heart with joy. I wake up every morning excited to do the work and meet with students because I know that it is meaningful work and that it will make a difference. It is my passion and heart that motivates me to do the work.
I am proud to be given the opportunity to use my platform to help students achieve their academic goals, collaborate with other faculty on meaningful work that impacts the community, and continue to work with underrepresented populations to provide them the same opportunity as everyone else.
This past year due to COVID and transitioning to virtual learning has really hit all of us hard. It has allowed me to dig deep to find creative ways to teach and help students. I had to adjust my teaching style and modify course materials to align
with the new learning environment. Most importantly, to teach from the heart with care and empathy for our students. To be their cheerleader in times when they needed it the most and be their voice when they were afraid to speak up.
I am proud of all the students I have crossed paths with (past and current students). Their ability to overcome their own personal struggles and allow me into their personal journey of healing. The success stories they share with me. The student and teacher bond extends beyond the classroom, from working on club activities, planning field trips, or volunteer work.
Q: What are some of your future goals or things you would like to accomplish?
I have been secretly making a list as I see issues arise. Starting with the CS Dept., I would like to improve the enrollment rate of females and underrepresented students for CS majors. Based on 2018 data, we have 24 female CS majors out of 173 CS students. The numbers are improving, but we still have work to do. From my experience, these students start out strong their first year and then the second year is where they struggle. This results in either dropping out or a change in major. I would like to figure out what is the root cause of this major change. In the meantime, I have collaborated with the tutoring centering to bring tutors into the classrooms (embedded tutors). I would like to start a support group or club for female CS majors, similar to ACM-W (Association for Computing Machinery-Women). This would allow the students to get to know each other and reach out to each other for advice or help.
I want to work with CS colleagues to make our program sustainable and accessible to everyone. With the COVID situation, businesses have been hit hard and people have had to reduce working hours or lose their jobs. In times like this where everything seems to be at a standstill, it would be good to offer hands-on training so people could acquire remote jobs in the tech field. I would like to create a community work training program where people could learn how to build a website, app, code, or fix a computer. I think it would really benefit the community.
I would like to help schools in our region start a CS program in middle or high school. Programming is as important as reading or writing. This would allow young kids to have a good foundational understanding of the basics of programming before they enter college. It would spark their interest at an early age.
Most importantly, continue the work with Mid-Valley STEM Hub. I am grateful for their work and support. They have helped me bring my ideas to fruition. The ability to work with young kids, to see the smile on their faces when they are able to do something and to see them learning in a stress-free environment. This work is important in helping kids see the possibilities that might seem impossible, gain confidence and knowledge for a brighter future.
Q: What have been some of your biggest career challenges?
This has been difficult to talk about and it is not something I like to talk about. I say this because I have experienced it first hand. Like everybody else, I have had many career challenges. I think being considered different in terms of race and gender has me question whether I belong in this field. I do not fit the standard profile in this field, so I feel like I have to work extra hard to prove that I belong in this field. Despite these challenges, I remain optimistic that things will get better and there is a place for everyone.
Q: Many young women might not be aware of the career available in STEM fields. What do you think can be done to spread the word to women about career options in these fields?
I think the conversation on this topic has started, but more work needs to be done. It starts with educators educating themselves about opportunities for women and networking with other organizations. At the start of my teaching career, I did not know about women-led organizations to empower women, such as ChickTech, National Center for Women in Technology (NCWIT), Association of Computing Machinery-Women (ACM-W), after attending seminars and networking with other instructors I joined these organizations. I shared what I learned from these organizations with the parents and students. Another thing is to have strong female role models to go out to local schools to educate young kids about these opportunities. I encourage anyone who wants to learn more about these opportunities is to be curious, network, and ask questions. We all need each other to bring this awareness to the forefront. This will continue to be a work in progress.
Q: Do you have any advice for women who are looking to follow a similar career path?
My advice to young women is that at the beginning the work will be difficult and you will be confronted with many challenges. It is important to be patient, work hard and never give up. Be curious, ask questions, network, and find learning opportunities. Take it one day at a time and you will get there. And most importantly, you belong in this field.
Q: What do you like to do for fun in your spare time?
I like to learn new things it keeps my mind going, currently taking a CyberSecurity course and learning about Artificial Intelligence/Machine Learning. I really enjoy cooking, baking, and taking road trips.
May 2021 Closing the Gap Resources
Visit our Closing the Gap page to learn more about this project and meet our other featured role models.