Meet Closing the Gap Featured Role Model (June 2021): Savannah Herrell
We're proud to present this month's featured role model, Savannah Herrell! Read our interview with Savannah below.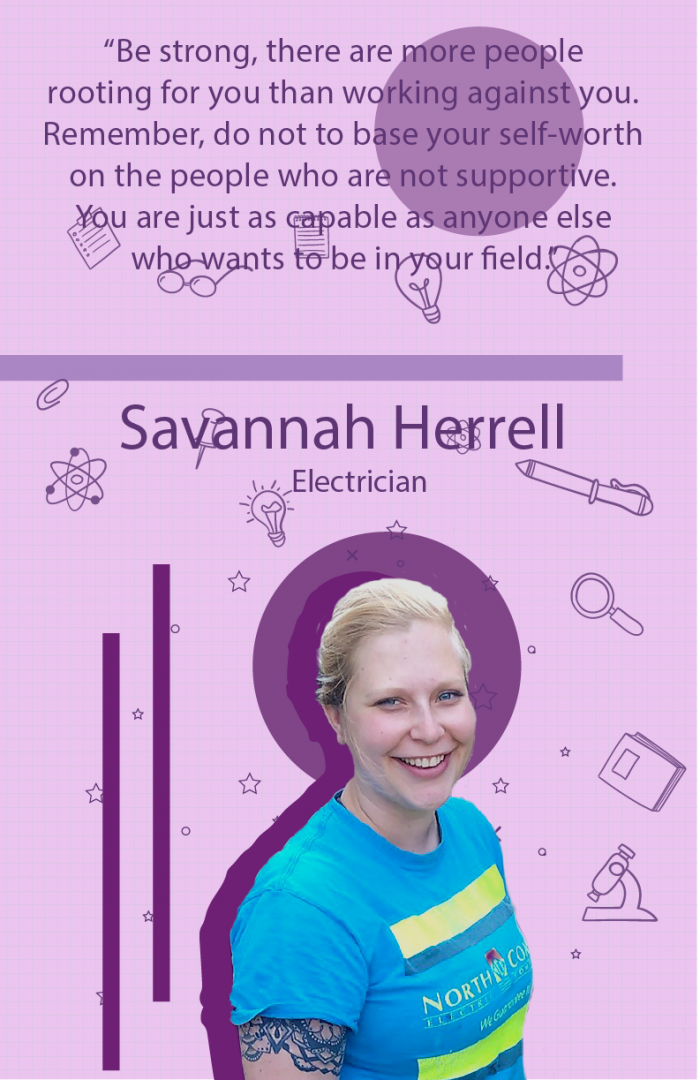 Q: Please describe your educational/training background
Electrical and some college.
Q: Please describe where you work & your occupation
Electrician for Reynolds Electric.
Q: Career-wise, what has been your proudest moments/highlights/accomplishments
so far?
Passing my Journeyman exam!
Q: What are some of your future goals or things you would like to accomplish?
I would love to be running large-scale jobs for a contractor someday.
Q: What have been some of your biggest career challenges?
Sexism is very much alive in the trades. It has hindered my career on multiple occasions.
Q: Many young women might not be aware of the career available in STEM fields. What do you think can be done to spread the word to women about career options in these fields?
I think organizations like yours are very key to opening women up to the idea of a career in STEM/trades. Speaking with young ladies that are still in high school really helps, especially if they can talk to someone who is already in the field. Education is key!
Q: Do you have any advice for women who are looking to follow a similar career path?
Be strong! There are more people rooting for you than working against you. Remember, do not base your self-worth on the people who are not supportive. You are just as capable as anyone else who wants to be in your field. If you can, find other women in your field or similar fields; they will support you and help you succeed.
Q: What do you like to do for fun in your spare time?
Almost anything outdoors or involving plants. My house is overflowing and so is my yard.
June's Closing the Gap Resources
Visit our Closing the Gap page to learn more and meet our other role models.