Q: Please describe your educational/training background
I earned my AAS in Heavy Equipment Diesel and have 7 years of experience in the industry. Prior to HED, I was in automotive-based jobs.
Q: Please describe where you work & your occupation
Linn-Benton Heavy Equipment Diesel program – Instructor Assistant- Heavy Equipment Diesel technician by trade.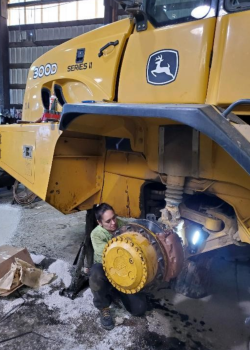 Q: Career-wise, what have been your proudest moments/highlights/accomplishments so far?
Probably working on haulers, Semi trucks, Dump trucks, Rock Crushers, Heavy Equipment lifts, Excavators, and low boy trailers. What I am proud of more than anything, I achieved my associate degree and a wonderful opportunity with the HED department at LBCC.
Q: What are some of your future goals or things you would like to accomplish?
I am working on a class A manual drive trucking license with double and triple endorsements with Knife River.
Q: What have been some of your biggest career challenges?
Just getting into the field I love. Discrimination in the field was a big hurdle when I was starting out.
Q: Many young women might not be aware of the career available in STEM fields. What do you think can be done to spread the word to women about career options in these fields?
In the Heavy Equipment Industry, we all have one thing fairly in common in our free time. We love off-roading, monster trucks, tractor pulls, and good bonfires. Whenever I have been able to get involved in those areas, there are families that love the events and usually are in good upbeat environments. I have been able to extend a helping hand or advise on how to fix something.
You can just see the kids light up and the parents too because they see their child's possible future. I love inviting them to come to LBCC's Dyno Day this year it's on the 19th and 20th of May. You can also stop by the HED department for a tour. The response to just priceless.
Q: Do you have any advice for women who are looking to follow a similar career path?
If you have never heard of Heavy Equipment, come see me so that I can help you find an entry-level job that will sponsor you to help get you through school. Get a job that helps you learn the lingo, exposes you to technicians working in the industry, and is willing to give you what you need to get through school. School gives you a complete understanding and encourages you to build the mechanical skills needed to be successful.
Q: What do you like to do for fun in your spare time?
Anything Heavy Equipment and Diesel! Hands down. I also enjoy learning, 4X4 machines, fly fishing, and riding horses once in a while.
Resources:
Listen on Spotify.
Visit Francis and the rest of the HED faculty at Dyno Days, May 19 and 20, 2023. Learn more about Dyno Days here!
Visit the HED program page at linnbenton.edu.