Albany – On a warm evening late last month, 10 families joined us at Calapooia Middle School to learn about next year's Latinx Mentor Program, Nuestro Futuro. It was great to see families share a meal with the mentors while learning about the program's features and benefits for the mentees and their families.
Upon entering the cafeteria, three of Casa Latinos Unidos' (CLU) community health workers handed out information on the resources that they provide, stickers, COVID test kits, and a fun STEAM activity for the youth to do at home, Solar Bugs.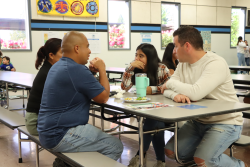 Three of the mentors also attended so they could introduce themselves and get to know the families. While guests enjoyed catering provided by Tacos el Machin, the mentors and CLU staff conversed with the families at their tables. This opportunity to connect with mentors and representatives of Casa Latinos Unidos allowed families to gain a better understanding of how the program can be of great benefit to the mentees and their families.
We have been busy working behind the scenes with the mentors on designing an engaging program for next year. The mentors bring prior experience from a variety of mentorship programs from which they can pull from to help us customize the experience for these students. Once students and families have been enrolled, we will also be incorporating their suggestions into the program activities.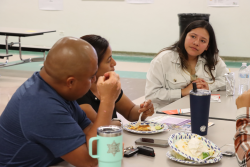 The program aims to help students learn more about themselves by exploring their identity, interests, and STEAM skills through engaging activities. Additionally, career exploration along with high school, college and career readiness activities will prepare them for a self-determined future. Families will have access to resources and education from local experts about topics that interest them, along with bonding time through shared STEAM activities with their students. By participating in the program, students will gain a better understanding of how their identity, interests, and STEAM skills can lead to success.
We will be engaged in more planning and student recruitment over the summer as we approach our first mentorship session scheduled in October.