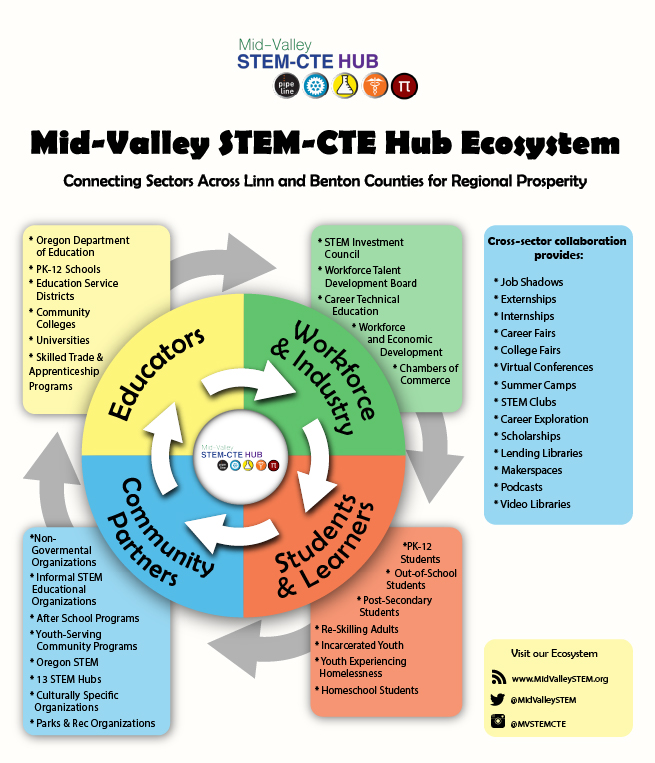 Mid-Valley STEM-CTE Hub's Educational Ecosystem
The Mid-Valley STEM-CTE Hub ecosystem supports cross-sector alignment to provide STEM and CTE experiences and resources for P-20 students
and educators. MVSCH serves Linn and Benton Counties as part of the statewide Oregon STEM Hub Network with the mission to reimagine and transform how we educate learners in order to enhance their life prospects, empower their communities, and build an inclusive, sustainable, innovation-based economy. This work seeks to ensure that students of all races, economic statuses, and geographies will develop the fundamental
STEM-enabled skills and mindsets necessary to:
Improve the prosperity of all individuals and communities across the state
Become creative life-long learners who can adapt to changing social and economic conditions
Fully contribute to an increasingly complex and technologically rich global society
Address high-demand, competitive workforce and industry needs
Our ecosystem coordinates assets across sectors to provide post-secondary pathways that are integral to advancing equity by increasing access to education, opportunity, and prosperity.