The spirit of collaboration is in the air. Gathered on the back wall of the MILL (Takena Hall, Room 229), Painting 1 students share cups of acrylic paint and chat with one another while using their brushes to materialize two-dimensional olive branches, a bird of paradise flower, and other motifs of peace.
The centerpiece of the mural is a young BIPOC woman, an homage to a former LBCC student known as Yanni. It was unveiled at 3 p.m. March 13 in the MILL.
"Yanni was an art student here at LBCC and has since moved on," LBCC art instructor Anne Magratten said. "She has done a lot of social justice work as well as continues to make art. She came to mind when working on the concept sketches for this mural because when thinking about peace, I was also thinking a lot about diversity, equity, and inclusion."
Immortalizing Yanni in this mural is work performed by student artists leaving their mark on LBCC, including recently retired mailroom whiz Cheryl French, who reported having a great time being a part of this massive project.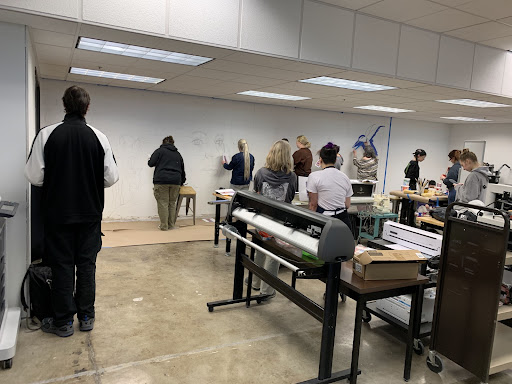 This is a massive project indeed, and the class working on it had put weeks of labor into this beautifully vibrant painting that spans 26 feet of the 32-foot-long back wall. Though it is more than just a labor of love for the students of Magratten's painting class. This mural was funded by the Peace Initiative, allowing LBCC to pay the students for their time and effort. The Peace Initiative grant funds projects that promote peace in the community.
"The mural is supposed to set the tone for the space," MILL Coordinator Forrest Johnson said, "This is a space for collaboration, a place where people engage with each other, and themselves doing cool work."
Making sure the students were fairly compensated was something that Magratten and the rest of the organizers of this project felt was important to set a precedent for the students; that their skills are valuable, and this type of work is important to their professional livelihood.
"A lot of times creative people get asked to do things for free, and I think that it's important to acknowledge artwork for what it is, labor and work," Magratten said, "and now this can be put on their artist resume."
"Oftentimes it's hard to get mural jobs if you haven't worked on a mural before," Johnson said.
Frequently, to get that experience artists have to take jobs that aren't great, he added. They could be high off the ground and outside and the great thing about this project is that students are working on their first mural in a safe environment, indoors and low to the ground.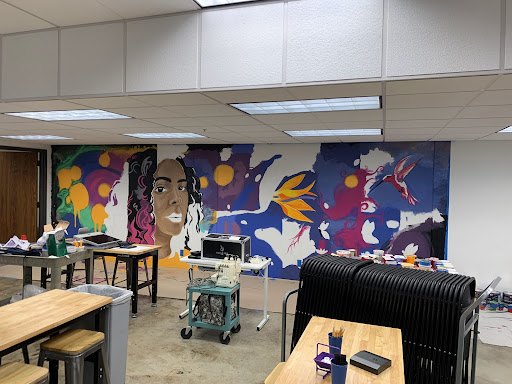 "I'm learning to mix paints and also how to collaborate on a large-scale project like this," student painter Rachel Severns said while working on the mural's hummingbird.
The mural is now complete. There is a free public unveiling event at 3 p.m. today in the MILL. Interested parties can now visit the Peace Mural; the MILL is open most business days, you can reach out via email to the MILL at mill@linnbenton.edu to confirm a time to visit.