If you didn't know, MVSCH has been producing a podcast called Closing the Gap, a show about women and gender minorities working in STEM and skilled trades.  Recently, MVSCH launched a second podcast channel called MILL Media. 
MILL Media is a collection of educational content produced in the MILL's A/V lab located on the Albany campus of Linn-Benton Community College (T-229). MILL Media offers Maker Lunch and Learn sessions, Women in STEAM Night panel discussions, and even short series and one-offs from LBCC staff and students.
You will not want to miss the upcoming show about AI in education!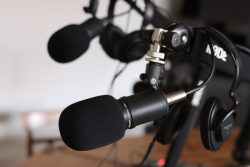 This is the best time to tune into our podcasts. What was once a lo-fi grassroots podcast operation is now a highly-produced nice sounding network of shows that is great for students, educators, and parents alike. MVSCH has invested in a podcasting studio that is housed in our makerspace, the MILL. If you have a show that you'd like to make and need a space to record contact MILL@linnbenton.edu to schedule some studio time.  
The MILL is free to use, though if it is within your means we suggest a $5 donation to help with the upkeep of this community space. 
Check out some of our recent shows below! Don't forget to subscribe on Youtube and Spotify so that you never miss out on a new episode.