It was turning into a warm and sunny day when the Mobile Makerspace rolled into Brownville on the second Thursday in June. Thursdays are the day that the Calapooia Food Alliance hosts a modest but diverse farmers market behind the Brownsville Public Library.
The Calapooia Food Alliance invited the Mobile Makerspace to participate in the seasonal market. When the Mobile Makerspace arrived, vendors and organizers waved and went over to say hello. Program Coordinator, Kelsie Szeszluski and the Mobile Makerspace has visited Brownsville several times this year, hosting STEAM events at the library. By June, Szeszluski had become a fixture in the Brownsville community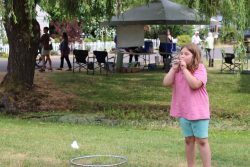 The market organizer directed the Mobile Makerspace to set up under a large red tent in the middle of the lawn, with plenty of room for the day's event, straw rockets. Straw rockets is a fun low-stakes STEAM project, perfect for an event like this one. Young people decorated and cut out a paper rocket ship affixed the bulb of a pipette on the backside of their rocket and then inserted a straw into the pipette bulb. From there the makers could use their breath to set the rocket into flight.
Straw rocket makers can experiment with various breath techniques, angles, and straw orientations to determine how they can make their rocket fly the furthest. Szeszluski had also set up a clever obstacle course for the straw rockets to challenge makers to engineer their rockets to zip from one point to the next.
Additionally, Szeszluski brought a Kiwi Co. marble run kit. Students interested in building and engineering could use the variety of obstacle components in the kit and create a course for their marble to make it from the top of the run into the collection basket at the bottom.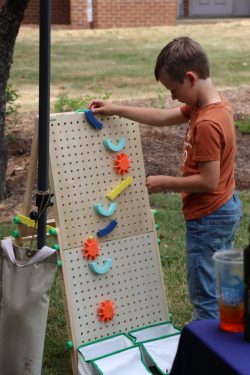 This was not the only STEAM activity at the market though. Across the field, Brownsville librarian, Sherry, had set up a lesson in coding using LEGOs. The young people that joined their families at the market stayed very entertained and engaged between the two stations, completing one project and then going over to the other.
At one point, a young girl that recognized Szeszluski from their Mobile Makerspace time together rushed over and said hi before grabbing some supplies and getting to work on her straw rocket while sitting in the grass.
The girl's mom was close behind. "She saw you all over here and ran right over," the mother said.
Szeszluski said, "It was a great time and a fantastic turnout".
We appreciate the opportunity to host these projects in the community. If you'd like to visit us while supporting local farmers and makers, join us for our next project at the Brownsville Farmers Market on Thursday, August 24.