This page highlights STEM & CTE Educational opportunities & events occurring in our region. Most events are free & virtual.
If you have an event to submit, please send it to midvalleystemctehub@gmail.com

Green Career Fair (Online)
April 30, 2022 @ 1:00 pm

-

4:30 pm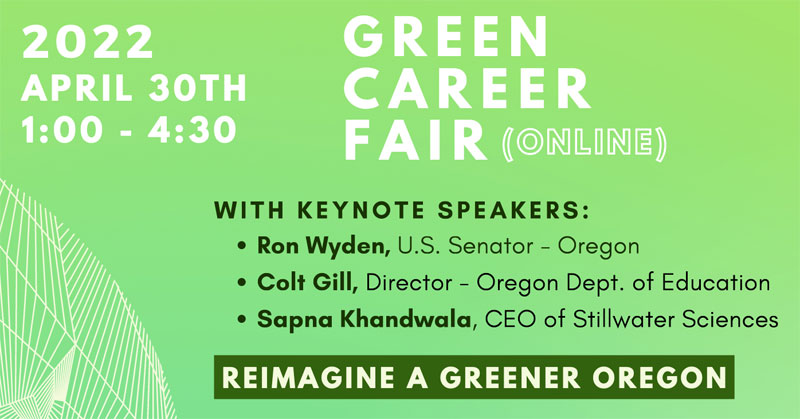 Green Career Fair (Online) – This event is organized by "Our Future," a high school climate action/justice leadership network.
A great way to prepare for the future is to learn from those who already have a career related to what you are interested in. Many of the jobs and careers today are tied with restoring and protecting the environment, and that is why attending a Green Career Fair can be VERY helpful. On Sat., April 30th (1pm to 4:30pm) an amazing group of presenters will be offering information and answering your questions. The "keynote speakers" include U.S. Senator Ron Wyden, Colt Gill – Director of the Oregon Dept. of Education, and Sapna Khandwala, CEO/President, Stillwater Sciences. They will set the stage with an understanding of the importance of green careers. The "panel speakers" are from various companies, organizations, and universities in Oregon, and will help you learn about specific opportunities in the following three subjects: Green Technology & Natural Resources, Green Economy, and College/University Opportunities.
Student involvement: 
– You are encouraged to be involved by asking questions during the "Question and Answer" time of each panel.
– You are encouraged to share your ideas in the Zoom chat at any point during the event. 
– High school students from the "Our Future" network will be helping to facilitate the panels. You can learn more about the network by visiting: ourfutureoregon.org
Important Links:
– Brochure: To read about each of the presenters, please access the brochure HERE (full color) or Click Here (text only).
– Registration: If you know you are interested and would like to register, please Click Here for the Eventbrite page.