Women and gender minorities make up just over 25% of the workforce in science, technology, engineering, and math (STEM), and men vastly outnumber women majoring in most STEM fields in college. The gender gaps are particularly high in some of the fastest-growing and highest-paid jobs of the future, like computer science and engineering. In trades occupations, this gap is even larger with women only making up just 9% of the workforce in construction and other skilled trades occupations.
Our goal with the creation of "Closing the Gap" is to highlight professional women and gender minorities from our region who are working in STEM & Trades fields. This way, they can see local women who are working in these careers and can consider these careers for themselves.
There are different ways to participate in this project:
* Guest Speaker - This includes participating in a 20-30 minute podcast interview and getting your photo taken for the development of a poster;
* Written Interview - For this, you will fill out a Q&A form, and we will use that information to write an article. After it's written, we will share with you and collect any feedback as well as make any necessary edits & changes before posting on our website and social media.
* Speaking opportunities - This can include being available to give a presentation about your career to students, attending a Q&A session for an event, and other opportunities.
* Mentorship - This aspect of the project is currently in development, but it would be an opportunity for you to connect with gender minorities (Middle/High School) who have shown interest in your career.
If you're interested in participating in any or all of these opportunities, please fill out this brief interest form.
Meet our Closing the Gap Featured Role Models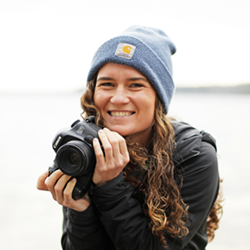 Listen to the Closing the Gap Podcast